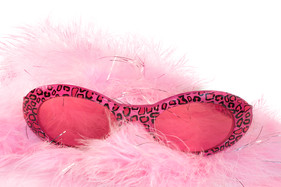 Spending an afternoon with three generations of kind and engaging women is a one of those joys in life that can't happen often enough.  Last weekend I escaped for a few hours with a family I wasn't born into, but have earned a cherished place in.
The adults started with folk music downtown, where we listened to a group of men doing what they clearly loved.  We were also entertained by a large breed dog sitting on a bar stool.  True story.  And no, we weren't drinking.
We picked up the little one and ended the afternoon at a fave lunch/dinner spot.  We caught up, shared stories, took pig personality tests (hilarious) and just laughed.   The two year old princess was wearing her rose-colored sunglasses while she brought me up to speed on the characters that have taken the place of the Barney's of my kids' generation.  Later, we made her first paper airplane together out of the picture she'd been coloring outside the lines  (something we all encourage).   On the airplane thing, I'm certain her mother was thrilled that Aunt Laura had shared such a potentially irritating new trick.  As a distraction, I became her assistant as she took pictures of cow art on the walls of the restaurant with her new digital camera.
Families don't have to be blood and kids are special.  There's so much for us crazy adults to learn from how they think.
Last weekend I was reminded how lucky I am to know such great people, to keep coloring outside the lines and to wear my rose-colored glasses as often as possible.